A Khwai safari is a perfect way to experience Botswana's wildlife diversity. Nestled between the iconic Okavango Delta, Moremi Game Reserve, and Chobe National Park, this picturesque destination offers endless photographic opportunities for the avid nature lover.
From elephants and giraffes to wild dogs and big cats, visitors can get up close with incredible games on private reserves, guided by experienced guides. A variety of bird species also inhabit the area, so responsible bird-watching wildlife safaris are sure to provide an unforgettable experience for those passionate about avian life.
The mix of habitats allows endless exploration opportunities, from grassy plains and wetlands to mopane woodlands and open savannahs. Furthermore, no fences are separating Moremi and Chobe from the Khwai River – allowing animal migrations without any obstacles.
Out on your Khwai Safari, expect exciting moments such as tracking lions on foot or sighting leopards up high amongst trees – one thing's for sure – no two days will be alike when exploring this wildlife paradise between Moremi and Chobe.
In this blog post, we explore the best parts to explore about Khwai, the village, the Khwai community concession area, the best accommodation in Khwai, and enjoying the African safari experience in Luxury.
Khwai Village
Khwai is a village located on the north bank of the Khwai River in the North-West District of Botswana. The river serves as the northern boundary of the Moremi Game Reserve, and the village is situated just outside the north gate of the game reserve, on the eastern side of the Okavango Delta.
The village has about 400 BaBukakhwe or River Bushmen. Most of the people are Babukakhwae, but some are Bayei too. The Babukakhwae are a group of Basarwa, bushmen, or San. The ancestral language of this village is Bukakhwaedam, but Setswana, English, and Afrikaans are also spoken.
Archeological evidence indicates the presence of Basarwa groups in Botswana for at least 22,000 years. However, it remains unclear when the Babukakhwae identity formed and when they became associated with the Khwai floodplain.
The elders of Khwai transitioned from traditional lifestyles of hunting and gathering in the 1960s when they were encouraged by the government of Botswana. They initially settled in an area that is now part of Moremi Game Reserve but were later forcibly relocated.
The people of Khwai are implementing an eco-tourism and sustainable development program to preserve the area's distinctive natural environment. As part of Botswana's community-based natural resource management program, they are constructing a community-run safari camp and organization camp. The village is surrounded by various lodges and safari camps.
Khwai Community Concession
The Khwai Community Concession stands as a key model of community-led conservation. Spanning over 180,000 hectares in the eastern reaches of Botswana's Okavango Delta, this untouched wilderness sanctuary remains conserved by local communities' hard work and dedication.
Despite its increasing popularity amongst visitors seeking an exhilarating safari experience, it provides an incredible insight into sustainable development practices that aid the preservation of some of Botswana's most prized regions.
Under the governance of Khwai Development Trust, wildlife within this exquisite reserve is allowed to move freely without any disruption from artificial barriers or human disturbance. The Khwai community trust benefits ensure the proceeds from the concession benefit the local community of Khwai village.
Guests are treated to unspoiled views of pristine landscapes and natural wilderness while observing abundant game that migrates to new camps from neighboring expenses such as Moremi National Park and Chobe National Park.
This unique respite for both animals and humans alike serves to illustrate just how important collaborative efforts between locals and forward-thinking initiatives can be in preserving vast biodiverse ecosystems for generations to come.
Wildlife In Khwai
Khwai Private and Khwai Community sections in Botswana are renowned for their great wildlife sightings.
Khwai is a remote location renowned for offering excellent wildlife sightings:
Excellent leopard sightings
Wild dog
Elephants,
buffalo,
hippos,
crocodile,
giraffes,
zebra,
hyena
The African Elephant In Khwai
The African elephant is an iconic species that forms important parts of many cultures and ecosystems, with Botswana's Khwai region being no exception. Botswana has the largest population of African elephants in the world and it's fair to say that without these majestic creatures, the landscape of the Okavango Delta would be incomplete.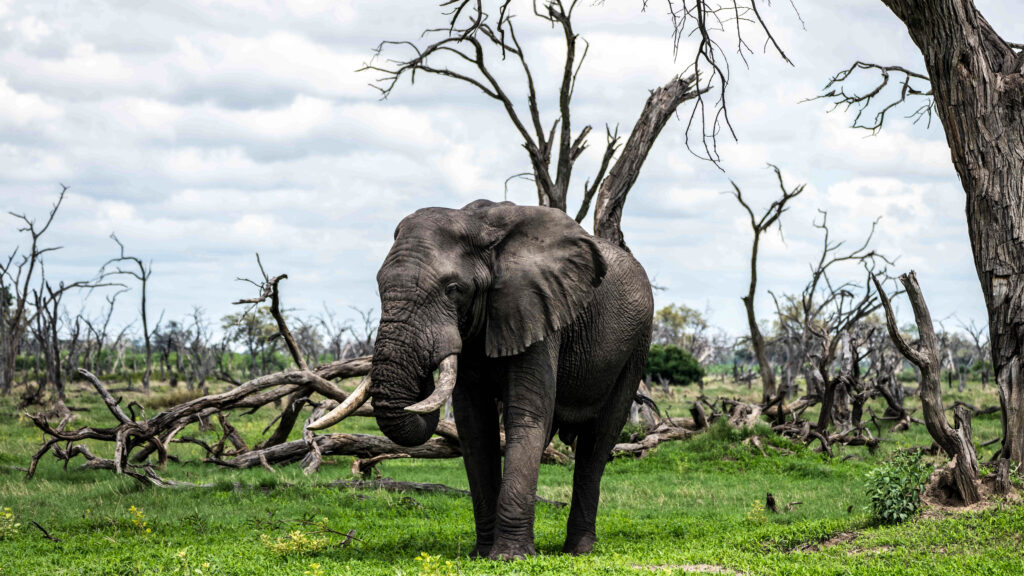 Elephants have a tendency to move through these grounds frequently, drawn in by the plentiful resources available around the Khwai River during drier months. This follows seasonal rains which see many animals congregate back at home in large herds to take advantage of plentiful lush vegetation.
The region is exceptionally rich in biodiversity so it is no surprise that wildlife enthusiasts flock here to glimpse some of nature's most impressive species; especially the African Elephants.
The Okavango Delta provides a breeding haven for many animal species such as hippos, wild dogs, crocodiles, and cats. Still, it is arguably most famously known for its elephant sighting opportunities ranging from life-size herds to baby calves.
To understand why this area holds special significance for elephant populations all over Africa, we must explore beyond what meets the eye.
The Big Cats: Leopard, Lion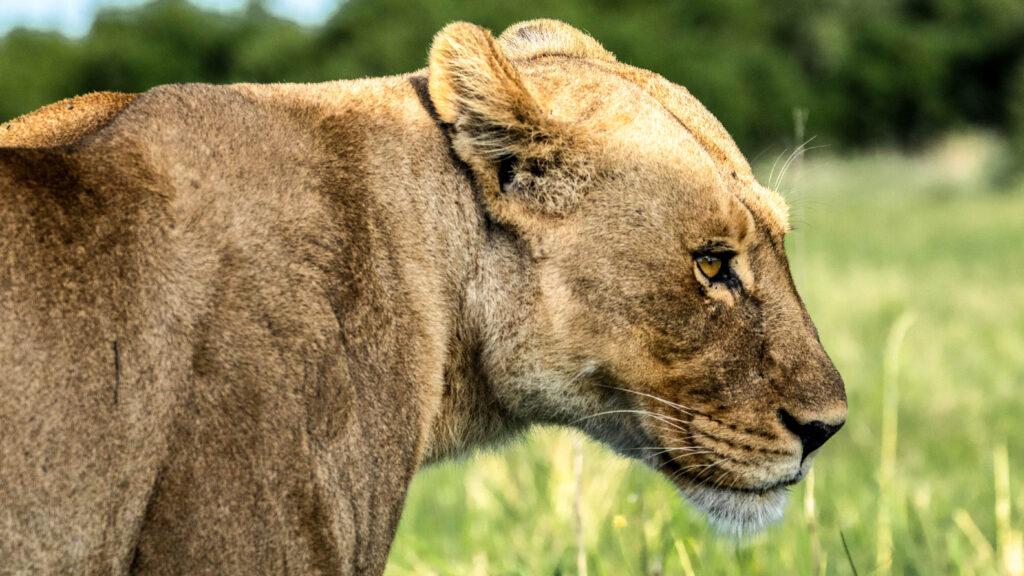 Majestic big cats like lions and leopards can be found sheltering amongst other antelope species such as sable, roan, and kudu. These animals are highly sought after by tourists due to their sheer beauty and also the challenge they provide for experienced safari guides.
The Khwai area is home to many of the big cats in Africa; allowing you a chance to get up close and personal with these amazing predators. The lion and leopard sightings here are some of the best you will see anywhere in Botswana, as the variety of wildlife in the area means they have plenty to feed on.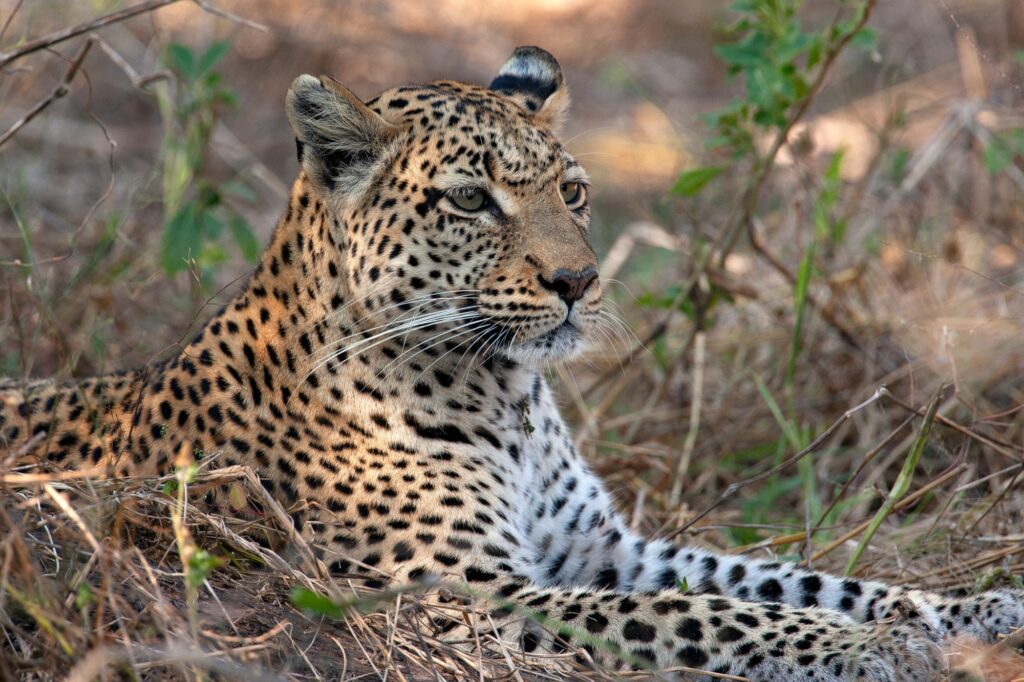 The leopards here are particularly impressive due to their sheer size and power, often reaching up to a meter in length and weighing up to 70 kg. They can be found in tree crooks during the day looking for prey, before coming down at night to hunt. Lions, too, can be seen roaming around
The African Wild Dog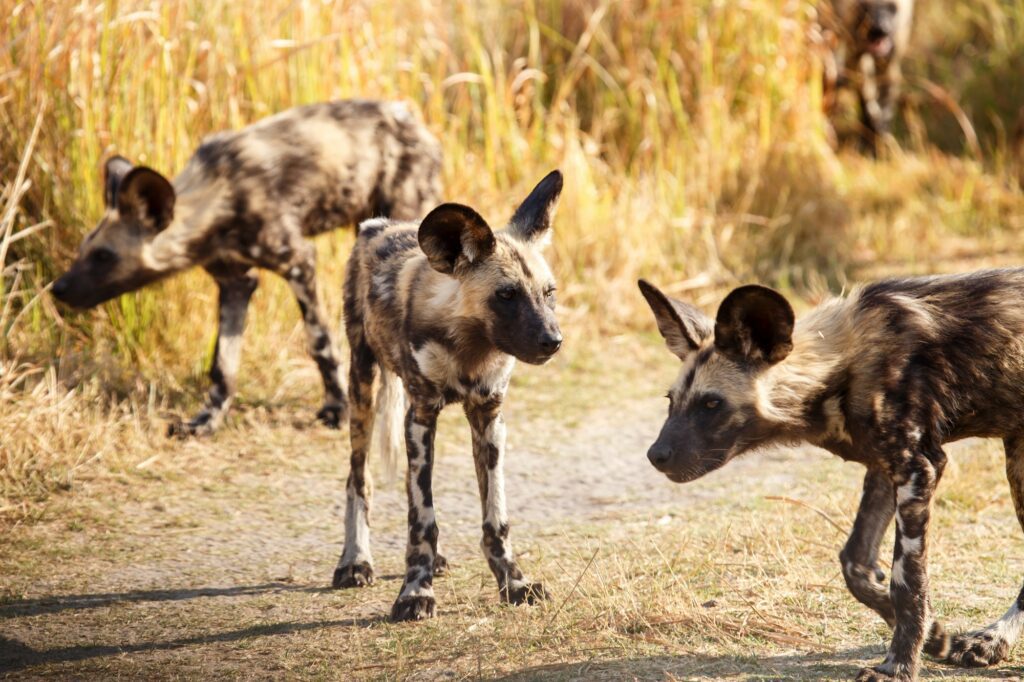 The African wild dogs are one of the continent's most iconic yet endangered species. This magnificent canid is a valuable part of the Okavango Delta's ecosystem, helping to control populations of smaller mammals and scavenging on carrion.
It is estimated that there are only about 700 wild dogs left in Botswana, so sightings of these truly remarkable creatures are incredibly special.
Rare sightings are still common occurrences, but their numbers are now much reduced due to hunting. The waterways also offer a home to hippos and crocodiles to create a captivating aquatic realm of animal life.
The Nile crocodile
The Okavango Delta is renowned for its large populations of Nile crocodiles, many of which inhabit the banks of the Khwai River. These reptiles have been known to grow up to 20 feet in length, making them some of the largest crocodiles in Africa.
The Nile crocodile is an apex predator and plays a crucial role in the food chain, helping to maintain healthy populations of other species including fish and birds.
Here, there is something new to intrigue wandering wildlife admirers every day among the verdant swaths of Khwai's preserves.
Birdlife of Khwai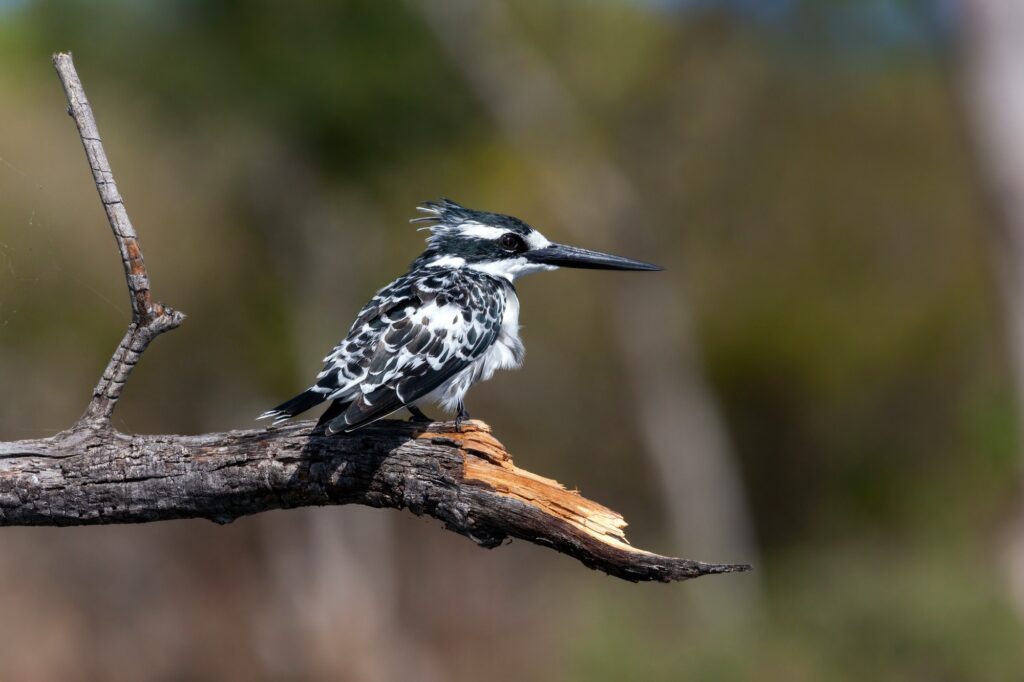 The birdlife of Khwai is a magnificent sight to behold. On any safari, you'll find an array of raptors perched in the treetops while wading birds like saddled-billed storks gracefully make their way through the shallows.
During the wet or rainy season, an even more diverse selection of aquatic birds will flock to the Khwai River for its limited permanent water source. Visitors can expect to see many species such as fish eagles, kingfishers, and even the brilliant lilac-breasted roller amidst a flurry of other feathered creatures. There's no doubt that Khwai is a wildlife enthusiast's paradise!
That said, there's no shortage of remarkable bird sightings during the dry season either! Across bush and savannah alike, scan the skies for iconic species like martial and bateleur eagles swooping down from on high.
This makes it abundantly clear that whatever time you visit this remarkable concession, you're sure to experience a breathtaking display of avian splendor.
Accommodation and Activities at Khwai
The Khwai area offers guests a wide range of accommodation options allowing visitors the flexibility to make the most of their stay. From luxury lodges set amongst lush riverine surrounds to tented camps perfect for those seeking an adventure, there's something for everyone in Khwai.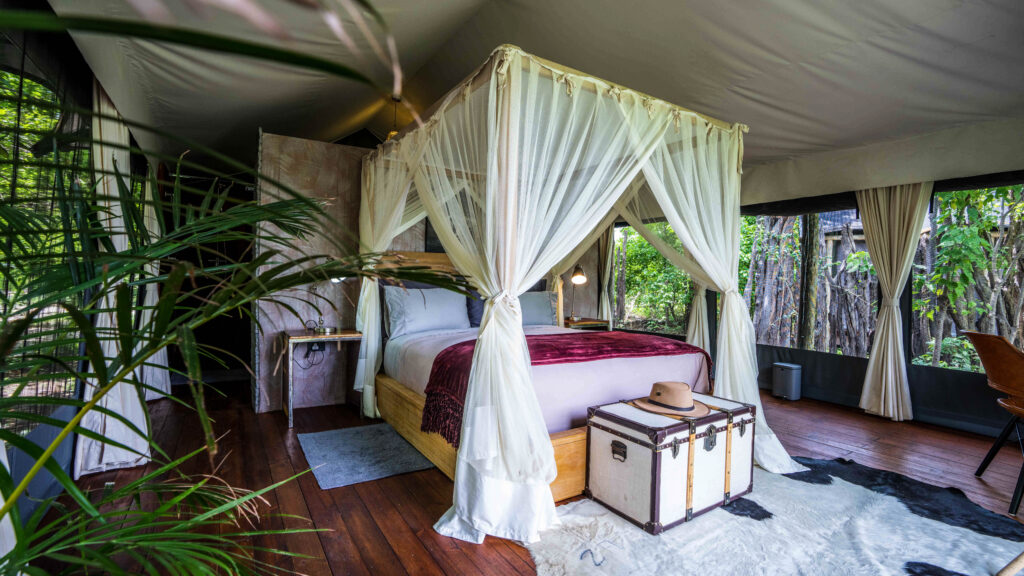 One of the best Luxury tented camps to visit is our very own Khwai Expeditions Camp, a tented camp boasting 6 Luxury rooms with beautiful views from a channel flowing from along the banks of the Khwai River.
Here are some activities to look forward to when visiting Khwai:
Game Drives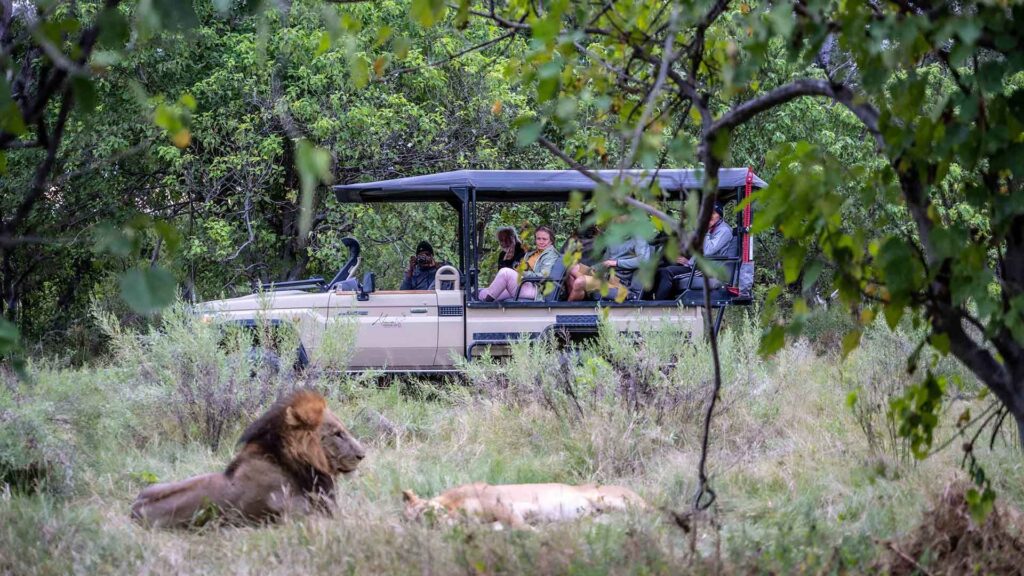 Enjoy the thrill of early morning game drives across the Khwai concession, where you'll have chances to spot various animal species in their natural habitat. Khwai presents excellent game-viewing opportunities. 
As mentioned in our previous sessions about Moremi game reserve, it is an area that has abundant wildlife, especially giving you excellent leopard sightings and wild dog packs. Moremi Game Reserve also presents a superb game-viewing experience for travelers in the Khwai region.
Bush Walks
Take part in guided bush walks in the African bush and learn about the flora and fauna of Khwai. A walking safari gives you an intimate experience with Khwai and its wildlife.
Bird Watching
With over 400 species of birds in the area, there's plenty of opportunity for bird watching!
Visit Local Villages: Take a break from the wildlife and visit nearby villages to learn about the culture, customs, and traditions of the modern world from the local people.
Khwai is an amazing destination for any avid wildlife enthusiast, offering an array of activities and a stunning landscape to explore. Whether you're looking for a luxury safari or an adventure in the wilds of Botswana, Khwai has something for everyone.
Aside from game drives, searching for wildlife in Khwai can also be done on foot on walking safaris or via boat safaris. Whether you're keen to explore the local wetlands, spot big cats in their natural habitat, or observe elephant herds as they roam the savannahs – there's no shortage of activities and exciting experiences.
Mokoro Rides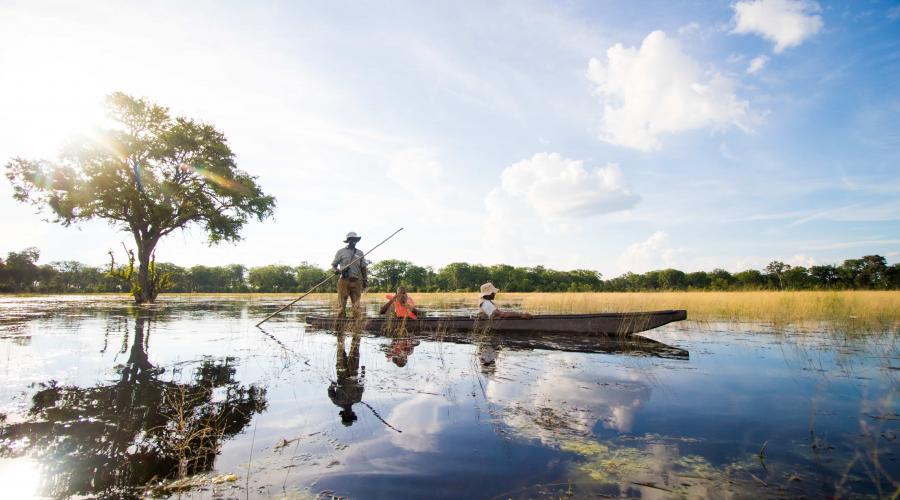 Image Source: Botswana Tourism
Experience the tranquility of a mokoro ride along the tranquil waters of the Delta. A mokoro is a traditional canoe-like boat used by locals to navigate through the shallow waters of the Okavango Delta.
You can take in the stunning views from this unique perspective and spot various aquatic wildlife such as African Skimmers, African Jacana, and many more. Going on a mokoro excursion gives you the experience of a lifetime in shallow waters flowing through the Okavango Delta – a unique ecosystem and the largest inland delta in the world.
Best Times to Visit Khwai
Wet season or Green season
During the Wet season (November to March), animals can still be observed in the heart of the Delta, although activities may be limited due to storms and lower water levels.
Dry winter season
During the Dry season (April to October), water levels in the Okavango Delta are ideal for mokoro (dugout canoe) trips. This is a favorable time to observe wildlife, disregarding the warm conditions that prevail in the two months preceding the arrival of the rains. This makes Khwai one of the best places to visit at this time of year.
Visiting Khwai Botswana, Khwai Village & Khwai Concession
Khw ai is a truly remarkable area for wildlife enthusiasts, offering an unparalleled experience of Botswana's unique ecology. With abundant resources, a plethora of activities, and accommodation options to suit all travelers – Khwai provides an unforgettable wilderness journey for all those who visit.
A truly remarkable Khwai safari experience awaits those seeking to explore the wilds of Botswana. With years of experience walking safaris under our belts, we have hand-picked transformative experiences to craft your ultimate Khwai safari.
Whether you're looking for a thrilling self-drive adventure, or prefer one-of-a-kind exhibitions in the remotest of locales led by knowledgeable guides – we put the best to work to make your journey worth remembering.
Our Travel Experts ensure that each element meaningfully contributes to the success and satisfaction of your luxury game-viewing adventure. Moving through the bushveld, savannah plains, or mopane woodlands, you'll witness a plethora of wildlife including lions, wildebeests, and antelopes that call this place home.
After all, Khwai has its own particular Lion dynasty. Explore luxurious Khwai Expeditions Camp situated in perfectly balanced ecosystems featuring a focus on sustainable operations – making yours an immaculate and non-obtrusive true Africa safari.
What is the Ideal length of your Stay in Khwai?
The incredible journey to Khwai begins late afternoon or early morning from Maun Airport where you take charter flights that take only 11 minutes over the pristine Delta by air or a 2 1/2 hour drive on land to reach the destination.
Going further deep into the wilderness gives a unique blend of exhilaration with a feeling of waiting for something surprisingly unforeseen. An ideal duration of 2-3 nights will make sure you explore the best widely known areas such as Xakanaxa and Khwai Concession, with a sufficient amount of time to observe the wildlife in their natural habitat.
The visit to Xakanaxa is ideal for its diverse landscapes, while Khwai Concession is best known for its big cats like lions, cheetahs, and leopards.
Frequently Asked Questions
What is the population of Khwai?
The Khwai Village has an estimated 400 people living within the Khwai Community who are the descendants of BaBukakhwe or The River Bushmen. This community lives along with wildlife in the Khwai community area.
What is the flora of the Khwai?
The plant life in Khwai has a range of flora made up from Mopane woodland to acacia with an abundance of fine camel thorns. When in this area you will notice an abundance of vegetation along the banks of the Khwai River which is home to the famous African Sausage Trees.
How much does it cost to camp in Khwai?
Camping in Khwai ranges from P350 to P550 per person. The park fees are higher than other game reserves and national parks because of this being a community concession. The other option is choosing to stay in one of the tented camps like Khwai Expedition Camp to experience the African bush in luxury.
How do I book an Accommodation in Khwai?
To book accommodation at Khwai Expeditions camp simply, go to our booking page on Nights Bridge and make the booking. Alternatively, you can book through Spirit of Travel & Tours for them to create a tailored safari experience.
How much is Khwai Expeditions Camp?
Khwai Expeditions Camp rates start from $350 per person per night in the low season up to $657 per person per night and include accommodation, park fees, two safari activities, local drinks, and all meals during your stay in the camp.